Jewelry is the most beautiful thing created by a human being. A single piece of jewelry can add a lot of elegance to whosoever wears it. It comes in various designs, materials, and shapes. You can even customize jewelry according to your wants.
Buying and sourcing jewelry in bulk from Chinese markets is a great option, due to the variety and the price that they have. But you must be confused about where to go to purchase jewelry in China. Don't worry because we have made things easy for you by creating a list of China wholesale jewelry markets. You will also get to know how to import jewelry from China with our best sourcing agent.
Guangzhou Jewelry Market
Source: google.com
Guangzhou jewelry market has large wholesale markets for boutique and jewelry items. There are three very large markets in Guangzhou namely Xijiao, Guangzhou Taikang, and Liwan Jewelry. Let's dig deeper into these markets.
A. Xijiao Jewelry Market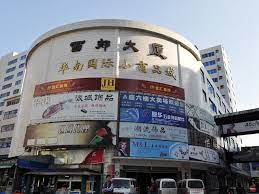 Source: google.com
Location: No. 2, Zhanqian Road, Liwan District, Guangzhou (Xijiao Building)
Products available: All items of jewelry
If you are looking for all kinds of jewelry items then you can find them here in this market. There are hundreds of shops available in this market that are selling items like necklaces, bracelets, pendants, etc.
B. Guangzhou Taikang Jewelry Market
Source: google.com
Location: No. 111, Taikang Road, Yuexiu District, Taikang Plaza
Products available: Rings, Earrings, Necklaces
Another famous and large market in China, this market deals in products that are more popular to European and Asian styles. Most of their products suit the young generation and women.
You can look out for any jewelry in bulk from this market, get in contact with reliable and trusted product sourcing services, and your import will be all sorted!
C. Liwan Jewelry Wholesale Market
Source: google.com
Location: China, Guang Dong Sheng, Guang Zhou Shi, Hua Du Qu
Products available: Crystal and Pearl Jewelry products
The jewelry shops are present in the north tower of Guangzhou Liwan Plaza. The crystal market can be found on the basement, 1st, and 2nd floors. Jewelry made of pearls can also be found there. There is also an international jewelry and crystal trading center.
Yiwu Wholesale Jewelry Market
Source: google.com
Location: Yiwu International Wholesale Market, District A – E, 2nd Floor
Products available: All types of jewelry, clothing, electronic products, and much more
When you enter the Yiwu jewelry market, you will see a guide layout where you can easily locate different jewelry areas. You can find clothing, electronic products, bags, leather, etc there and you will be able to conveniently move around these areas.
You will notice that the prices of jewelry here are cheaper than in other jewelry markets. Although the prices are low you will have to compromise in quality too. After all, you cannot get every good thing in one place. You will get more complete jewelry in the Guangzhou market.
China's logistic industry has come a long way in developing itself than anybody ever imagined. Many of the jewelry products in the jewelry stores in the Yiwu jewelry market come from the wholesale jewelry market of Guangzhou. If made a comparison with the Guangzhou jewelry market, this market has way more jewelry shops here. There is every area mentioned on the big map so that you do not face any difficulty in the market.
Qingdao Jewelry Market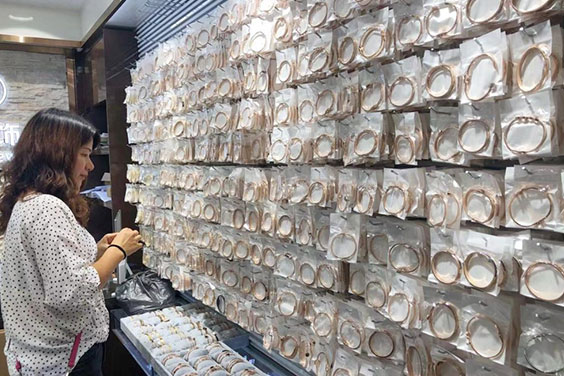 Source: google.com
Location: Xihuangbou Qingdao Shandong
Products: Brooch, Jewelry, Necklace, Earrings
Qingdao Jewelry market deals with the Gifts & Crafts Industry. They provide you with the option of choosing your own casting material like metal or brass. The materials they use are lead-free and nickel-free. They also have the option of the necklace-match set. This market is also known by the name of Sino Korea International commodities market.
As Qingdao and South Korea are very close so the style and design of the jewelry here match more with South Korea. You can also find many Korean companies in this market and the products they sell are of very good quality.
People from Northern China can easily purchase jewelry from a range of small commodities here without having to go to Guangzhou or Yiwu. The jewelry that these small commodities have is just lovable. Many suppliers here are middlemen who get jewelry wholesale from all over China and a part of this is directly wholesaled from Yiwu then sold at Qingdao jewelry market. The topmost business in China that also deals worldwide.
Sourcing Jewelry From China? MatchSourcing Helps You
While sourcing jewelry may be great for your business, taking into consideration the variety and the price they give, there may be some cons to it too.
Cons of Sourcing Jewelry in the Market:
Language barrier
Incorrect pricing
Lack of resource availability
Local restrictions
Less efficient suppliers
Delays in shipment
All these roadblocks may lead you to think, how to import jewelry from China? The answer is, to select a reliable sourcing agent.
MatchSourcing: The Best Sourcing Agent Based In Guangzhou

Source: matchsourcing.com
Based in Guangzhou, China, MatchSourcing is one of the best China sourcing agent famous for high-quality and full services. They specialize in exporting various products from Chinese markets. They will help you in sourcing the items you want.
They assure you profitability, cost savings, and maximum efficiency. They focus on making importing from China easy by doing the hard work so you can focus on other things. Their team of sourcing specialists is experienced and qualified that lets them focus on each part of the sourcing puzzle.
Services and Benefits of Finding a Jewelry Sourcing Agent
A sourcing agent helps a company in the process of finding sources for supplies and products at low prices.
These are the following benefits you get from a jewelry sourcing agent
Sourcing agents can easily identify frauds and scams.
You will not have to pay anything to suppliers unless you are 100% sure about them.
The sourcing agent will identify a new supplier that can create your products at good quality and the right price.
Conclusion
We hope that we were able to clear all your doubts and confusion about jewelry markets in China. The markets mentioned here, that is, Guangzhou jewelry markets, Yiwu International market, and Qingdao jewelry market, are the biggest and famous jewelry markets in China. The locations and the products they sell have also been mentioned so that you don't face any difficulty in locating them.
If you are thinking of sourcing jewelry from China then you can contact us, as we can resolve all your sourcing queries. With our experience in the sourcing business, you can be assured of nothing but the best service.