China is the fastest-growing production superpower that manufactures a hefty proportion of consumer products globally. Its economy thrives as a powerhouse of bag manufacturers as the Chinese products are used everywhere. You can easily find Made in China tags, labels, and stickers on a majority of consumer goods.
People usually believe that the ubiquity of Chinese goods is only due to the abundance of cheap labor there. But there's much more to it. In addition to low labor costs, China is also the world's manufacturing hub because of its business ecosystem, low tax rate and duties, competitive currency practices, and preferential policies.
All these contribute to making China a manufacturing hub!
Types of Handbags Made in China
Source: Unsplash
China is the largest market for handbags and the uncontested pioneer of this sector globally. It is a place where you can find hundreds of bags manufacturers in China. The leather handbags manufactured here are imported around the world.
Here are different varieties of handbags that you have the option of importing from China:
Baguette Handbag
You can easily find thousands of professional baguette handbags manufacturers in China that perfectly fit what you're looking for.
Bucket Handbag
Made up of fine quality material, bucket handbags are just the right choice for every college girl who wants to add a touch of cuteness to their look.
Messenger Handbag
Chinese manufacturers offer a wide range of messenger-style handbags. They are lightweight, crossbody, over-the-shoulder, or adjustable straps. It is ideal for work and travel as it has enough room to carry all your gear.
Barrel Handbag
Barrel handbags are a perfect fit for women who love traveling. These simple and elegant bags suit every piece of clothing you wear and let you carry numerous objects.
Basket Handbag
You can import the latest style designer handbags from China. These items are a perfect add-on to your day out or beach look.
Doctor's Handbag
China is the largest manufacturer of doctor's handbags. It is a type of portable bag used only by medical professionals to transport supplies.
Handbag Manufacturers in China
Source: Unsplash
You can easily find some of the finest handbag suppliers in China if you want to import at feasible rates. Each factory there has its distinctive products suiting your preferences.
China Buying Agent
If you cannot visit China personally, you can hire a buying agent who can carry out the task for you. Buying agents have contacts with the top handbag suppliers in China to find the products of your choice.
Here's an overview of the services given by the buying agents:
Handling all the paperwork involved in the transaction.

Negotiating and submitting the best offer price on your behalf.

Educating you about every part of the buying procedure.

Finding out your needs and budget to help you with the purchase.

Giving you an information packet about each handbag manufacturer.
PROS:
Experienced agents can identify issues in a product.

Conflict of interests in dual representation is avoided.

They bring professionalism and know-how to the transaction.

They protect the buyer's interests during the negotiating and closing process.
CONS:
Your purchase costs you more as the agent charges commission.

Locating a top-quality agent is not always easy.
China Bags Market
Source: Unsplash
China is a major place for sourcing quality handbags. All the manufacturing units there have the advantages of low cost, skilled labor, and convenient transportation.
Some of the finest China bags markets are listed down below:
Baiyan World Leather Trading Center

Shengyi Leather Market

Jinyi Leatherware Plaza

Mingju Leather Trade Center

Xin Dong Hao Leather City

Yifa Leather Wholesale Handbags City
PROS
Handbags are available at competitive prices.

Lower logistics cost if you're buying in bulk.

Customizable products according to your needs.

Environment-friendly packaging if you're buying in bulk.
CONS
Higher upfront cost if you purchase a few retail packs.

Some manufacturers may require membership fees.

You'll need a large amount of capital to get started.

No guarantee of product quality if you buy in bulk.
China Bags Show
Source: Unsplash
Another way of finding a trustworthy supplier of handbags in China is to attend shows and fairs.
Some famous China bag fairs are listed down below:
Licensing China

Fashion Access

Hong Kong Fashion Week

Canton Fair Autumn (China EXIM Fair)

Shanghai International Leather Handbags Exhibition

Cantonpel International Bags & Fashion Accessories Show
PROS:
The opportunity of seeing newly launched handbags.

Meeting and networking with reputed manufacturers.

An ideal place to sense the ongoing fashion trends.
CONS:
A confusing environment for many people.

Too many exhibitors selling the same product.

If the place is big enough, you might get tired.
B2B Websites
Here are some websites to purchase high-quality and affordable handbags from China:
Alibaba

DIY Trade

Lox Handbag Factory

Aliexpress

Rose Gal

JD Handbag Factory

Made-in-China

Global Sources
Search Engine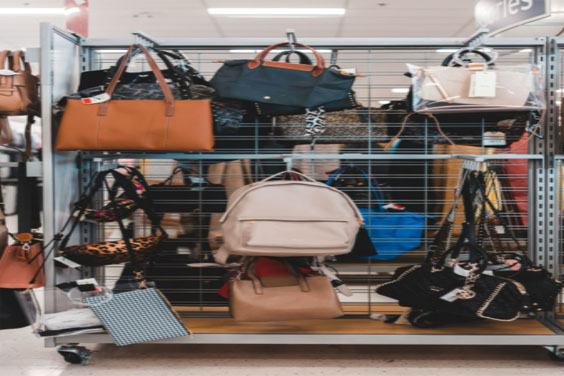 Source: Unsplash
Search engines play a key role when purchasing handbags from e-commerce websites. After the research cycle of the buyers is over, their search queries like free shipping, best price, and high quality, signal their point of purchase. So, optimizing a page to meet their needs results in higher conversions for your website.
Many search engines are geared directly towards buying products such as Alibaba, Aliexpress, Chinabrands, Made-in-China, Global Sources, etc.
Linkedin & Facebook
Some LinkedIn accounts to buy handbags in bulk from China are listed down below:
Custom Bags Manufacturer & Bags Wholesaler from China

Quanzhou Sandoo Bags Co. Ltd

Guangzhou Zhongding Bag Co. Ltd.

China Custom Backpack Manufacturer_Bagcare Bags
Some Facebook accounts to buy handbags in bulk from China are listed down below
China Bags Manufacturers

High-quality Vegan Leather Bag Manufacturer in China

Jumbo Bag Supplier in China

China Bag Supplier – Kimpo
Referrals
Lastly, referrals are a great source of getting reliable leads. Don't be shy to ask connections in your network to refer manufacturers, wholesalers, and distributors to import handbags from.
Social networks have made it much easier to get the word out so make full use of these channels. Join Facebook groups or other online communities of e-commerce business owners.
China Bag Factory or Supplier Audit
Source: Unsplash
Many established purse manufacturers in China are based in different parts. With so many factories and trading companies to choose from, you need to find out what really matters.
Product Focus
When you start researching, you'll find that the handbag industry is really big and different manufacturers specialize in a certain category. Within which the suppliers also specialize in different price ranges. Some manufacture high-end bags while others are geared towards fast fashion.
Company Data
Before picking a handbag supplier company, make sure it holds a business license and the amount of their registered capital exceeds RMB 1,000,000.
Documents
In the EU and US, chemical regulations apply to handbags. Since many suppliers are not aware of whether their products are suitable for export or not, you should ask them for test reports. These include Heavy Metal Screenings, REACH, quality management certification (ISO 9001), and social compliance certification (Sedex and BSCI).
Top 5 Handbag Manufacturers in China
Source: Unsplash
Let's take a look at some of the finest places to import handbags from China.
Guangzhou City
Guangzhou is an indisputable leader of high-end handbags because of the availability of skilled labor and advanced factories. Many luxury brands purchase their bags from here.
Here are some famous handbag manufacturers in Guangzhou city:
Sitoy Group

JS Corp

Superl Group

Luenthai Group

Lee & Man Development
Quanzhou City
Quanzhou has witnessed a great transformation from a trading center to a manufacturing hub for bags, clothing, and shoes.
Here are some famous handbag manufacturers in Quanzhou city:
Fond Group

Twinkling Star

Orient Handbag

ZiYan Light Industry
Baigou Town
Baigou is the largest market for buying wholesale handbags from China. In terms of output, it is the third-largest bag manufacturing industry in China. But the traders here are engaged in domestic trade rather than international trade because the factories here are relatively small.
Here are some famous handbag manufacturers in Baigou Town:
Twin Oaks Bags

Three Birds Luggage
Pinghu City
PingHu is famous as China's most reliable and high-quality luggage handbag manufacturer.
Here are some famous handbag manufacturers in PingHu City:
Ginza Travel

Newcomer Group

XingRong Luggage

Shi Tong Box-Bags
Cangnan County
Cangnan is not much of a center of the bag manufacturing industry, but a hub for printing and packaging. If you want to print high-quality designs on your bags, choose a supplier from here.
Here are some famous handbag manufacturers in Cangnan County:
HuaHao Nov-Woven

TianRui Chemical Fibre
Negotiate with China Handbag Factory
Source: Unsplash
If you want to produce customized handbags but are limited on budget, sourcing from China is a feasible option. But there is a long list of things to keep in mind before finalizing a manufacturer.
MOQ
The more units of a product you order, the lesser each unit will cost you, and each factory has a Minimum Order Quantity (MOQ). Strike a balance between not exceeding your budget but also not seeking such a small amount that you have to use a second-rate factory.
Quality & Reports
Hire a quality inspector to check up on the goods before shipment. He will also ensure that your product is made according to specifications. A quality inspection follows a checklist which you have to communicate before production. It includes:
Visual Inspection

Dimensions

Maximum Weight Check

Water-Resistance Check
Design
In addition to the specification sheet, you must provide the manufacturer with design drawings of the product unit. If the design of your handbags is complex, you must ask for product samples to guarantee that your expectations are met.
Pricing & Payment
Source: Unsplash
Before finalizing a manufacturer, ask them for the cost breakdown (cost of the item, shipping, taxes, and tariff) and decide on the payment terms. If you're a new customer, you may have to pay the entire amount of your first order, upfront. When you become a regular customer, you'll have to decide on future terms in advance to avoid any confusion.
Lead Time
From a few days to a month, Chinese handbag manufacturers can make any bulk handbag production done. The lead time of your handbag project depends on the quantity, design, and craft requirements. On the other hand, you can also keep follow up the schedule to ensure that the factory can meet your leat time.
Shipping
Shipping costs make up a substantial percentage of your total product cost. So it is vital to keep it as low as possible. The bigger your order, the lower per-item shipping costs you'll face so pick the right China sourcing services.
Popular shipping methods to import goods from China:
Regular Post

Courier

Air Freight

Sea Freight
Regulations & Custom Duties
Source: Unsplash
To stay on the right side of the law, here's a list of licenses and permissions you need to enable:
Register your company as a legal entity.

Register with the tax department to pay taxes and file returns annually.

Apply for an import/export license in the form of an IEC code from DGFT.
All bags made in China are subject to customs duty whether you purchase them for personal or commercial use. When importing goods from China to Australia or the US, customs duties are calculated based on the FOB (Free On Board) value of the imported goods. It includes product cost, export clearance, and transportation cost.
Conclusion
To successfully import handbags from China, you should look for credible and reliable suppliers and manufacturers. If you don't understand Chinese, consider hiring a translator or a sourcing agent. Finding the right supplier is no easy task as you have to consider a lot of things. Moreover, importing from a foreign country can be a complex procedure.
So, find a supplier who communicates every little detail with you and someone who knows the know-how of the business in China, as it will come in handy later. You may even ask your networks to recommend handbag manufacturers or suppliers from China.