After your goods are manufactured in China and everything works well for you, you should be ready for shipping them to your warehouse. The whole importing process can be intimidating. The shipping is part of the job and it's vital to get it done nice and neat.  
 In this article, you will learn
Regular shipping methods from China to worldwide areas

How is shipping freight calculated?

Which shipping method is your best fit?

E-commerce logistics

more…..
1.Shipping methods
1)Shipping by air
When will it be beneficial to you to ship your parcel by air?
To send documents or paperwork

To send samples

To send low volume but high-value products

When the parcel is very time-definite
As a result of the fast delivery, the air freight can be expensive compared with other shipping methods.
 Quick tip: there are two different services by air, which are "door to door" service and "airport to airport" service. The front is normally called international express service and the latter one is air freight service. (Note: air freight service provides door-to-door service as well)
 Either you are using your vendor's freight forwarder or your own shipping courier, make sure you and the shipping company are talking about the same destination address to deliver your parcel.
 Putting aside the upper difference, here are some of the most commonly seen air shipping options that provide global shipping services.
 a) Top 4 air couriers
If you don't ship goods internationally on a regular basis, you will be overwhelmed by all the different air cargo carriers.
FedEx, Ups, DHL, TNT are most used 4 air shipping carriers. They have the fastest service and economic service. Fastest service delivery time is about 1-3 business days and economic service 3-5 days. Some of them offer overnight / the same day delivery service.
 If you have an emergency parcel or it is really time-sensitive, the service can help you with it. Time is money. In turn, it will charge you more to take the option.
b)  China post
Typical service from China post is:
China post registered air mail; HK post

E-Packet (EUB or E youbao)

China Post EMS
 China / HK post registered air mail is a cheap but slow international shipping service.
Pros:
Cheap

Worldwide service

Calculated by Dead weight only

Easy custom clearance

No tax normally
 Cons:
Very long delivery time. It is good luck already if the parcel arrivals within 1 month.

High chance to lose parcels (5-8%)

Poor delivery confirmation

Cargo must be within 2kg
 E-packet was launched especially for eBay sellers based in the USA. Alibaba and Aliexpress also work with E-packet. E-packet in China has the priority over China post service because e-commerce requires certain delivery time.
 China Post EMS Mail is generally faster than the registered airmail service. It takes about 7-14 days. It's an upgraded delivery service.
c)  A special line from logistics service providers
There are many logistic service providers have their own special line. The shipping cost is often reasonable and delivery time is acceptable. If you are not in a hurry to get the parcel, a special line can work for you as well. Its price is not that high as top express carriers like DHL. Delivery time is common to be about 5 – 10 days.
Meanwhile, some logistics service providers also work with top carriers (DHL, TNT, UPS etc). They are handling bulk orders and the prices are often better than you work with the top carriers directly.
2)   Shipping by sea
Sea shipping or ocean shipping can accommodate high volume and heavy cargoes. The item range covers wide categories. The sea freight doesn't cost too much but it will talk some time to arrive at your destination port. It can be easily 30 days from the port of loading to port of destination. The distance in-between plays a big role. Sea shipping time can be estimated in a regular range instead of an accurate date.
3)  Land shipping
Land shipping (Ground shipping) normally covers road and rail transportation. It can be transported by train or by truck across inland areas. Very often land shipping is combined with air freight and ocean freight for door-to-door service.
In general, here's how the freight fees rank: International express / Air freight > road and rail service > ocean freight.
 2.Shipping freight
1)   By air
Freight costs by air need to take into account both actual weight and volumetric weight. At the end of the day, the calculated weight for freight cost will be the bigger figure(actual weight/volumetric weight). For example,
 Actual weight = 80 kg
Volumetric weight = 90 kg
Freight per kg = $6
 Total freight cost = 90 kg X $6 NOT 80 kg X $6
 Now here comes the calculation of volumetric weight. There's a bit different of the volumetric/dimensional weight calculation between "express service [door to door]" and "air freight service [airport to airport]".
 How different?
 For express service [door to door], the dimensional weight is:
Length(cm) X width(cm) X height(cm) / 5000
 For express service [door to door], the dimensional weight is:
Length(cm) X width(cm) X height(cm) / 6000
 Here's a quick example:
Length(cm) X width(cm) X height(cm) = 50 X 40 X12 = 24000
Dimensional Weight for Express service(kg) = 24000 / 5000 = 4.8
Dimensional Weight for Air freight service(kg) = 24000 / 6000 = 4
 Although calculated dimensional weight for express service is always heavier than air freight service's, it doesn't mean air freight is a better option. Because you (importers) have to pay extra fees for: 
a.  Inland transportation from your vendor's factory to the airport in China [most vendors won't cover this cost]
b.  Inland transportation from the destination airport to your door
c.  Customs clearance costs both in China and the imported country
 Air freight service is also offering "door to door" service these days, namely, the shipping company will have the cargo picked up at the factory to the airport. And after customs clearance is completed, the cargo will be delivered to your door. But these service is sure to be charged with extra fees.
 If you are hesitant about which one to choose, ask both of them to make an offer and make a comparison. If the cargo's calculated weight is lighter than 300 kg, going for express door-to-door service is a better chance to save money and avoid chores.
 2)  By sea 
Shipping by sea involves some other cost items that you need to take into consideration. The calculated cost items can be more or less than following. It depends on which Incoterm you are dealing with your manufacturer in China.
 Local transportation from the factory to the port of loading
Document delivery OR telex release surcharge (for customs clearance and cargo collection)

Customs clearance for export from China

Local charges at the port of loading

Sea freight cost (LCL cargo is calculated by cubic, FCL is calculated by the container)

Shipping Agent Charges

Insurance cost

Local charges at the port of destination

Domestic transportation from port of destination to your warehouse

Customs clearance and tax
 Variable costs in different countries
Japan:     FAF/YAS/EBS/GBF/AFR/TTS/PSS
South Korea:   EBS/CIC/BAF/CAF/TTS/PSS
South America & Central America:  AMS
Southeast Asia: EBS/CIC/ECRS
USA:  AMS/IFS; Customs Bond
Euro & North Africa: ENS
Canada: ACI/AMS
Taiwan:   CIC/EBS 
3.E-commerce logistics
If you are or want to be in the E-commerce business, you may know overseas warehouse or fulfillment for order fulfillment service. The overseas warehouse is often established by 3PL(third-party logistics) to facilitate cross-border e-commerce.  
The rough process of order fulfillment: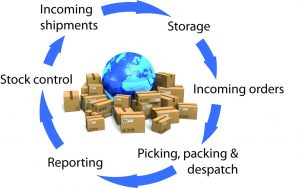 Receiving
Your products are shipped in bulk to the overseas warehouse.
Managing
Once the products have been received, they will be counted, inspected, labeled and added to your warehouse management software and shelved.
Selling
Sell your goods via online platforms( Amazon, eBay, your own e-commerce website etc) –>
Order processing
Once the order is received by your warehouse, warehouse staff will pick off the shelves as per order specs and after proper checks, the goods will be moved to the shipping station.
Delivery
The shipping station will weigh and decide the best suitable shipping method and deliver the package to your customer.
What about you?
What shipping method do you normally use? Any challenge while you are working with your shipping freight forwarder?
Related Posts